Yay Area Homecoming!
We're doing 2 screenings of The Institute this month, as a homecoming from our stellar festival run!  Join us and celebrate, with filmmaker discussion afterward. 7pm Tuesday May 28 @ The New Parkway, Oakland CA 7pm Wednesday May 29 @ A Secret Mission District Location, San Francisco, CA How to get a pair of tix?  Hype the movie up and let us know how much you need to be there! ...
Went on a capital field trip yesterday with Myth Wrangler Haley Who to visit the Stanford D. School's class on Redesigning Theater.   Crucible luminary Michale Sturtz invited us down to make a presentation, and we got a chance to glimpse the next generation of creative makers at work and play.  Then back to the Easty-Bay for clandestine cuisine and creative conception.  A fine day in all.  Next...
On the origins of Nonchalance (and Oaklandish)
The PUNK PLANET Interview with Jeff Hull by Aaron Shuman, at Mosswood Park 2002 Nonchalance is the name of an irregular army of guerrilla artists who have blanketed the streets of Oakland, California in defense of "original Oakland charm", and Jeff Hull is the person around whom this loose collective coalesced. Hull first expressed his interest in preserving the cultural legacy of his hometown...
I feel compelled to warn you, my friends, that all web content related to Games of Nonchalance will soon be removed.  Please enjoy it (or save it) while you can.  All toward the greater good…
We'll see you at SLAMDANCE!!
Yes, the Institute Documentary is in that 1.35% of films accepted into Slam Dance International Film Festival (technically harder than getting into Sundance).  We'll be in Park City, Utah for the festivities, glad-handing with industry sorts.  I can also say that some of the biggest companies in Cinema have requested preview screeners for their consideration.  Stay tuned for a new interactive web...
World Premiere Today!! We're making a scene!! →
7x7 On Location; The Institute →
Anonymous asked: Is it really true that Octavio Coleman Esquire will appear at the Oct. 11 film?
To Those Dark Horses...
We are pleased to announce that at The Institute public premiere at the Mill Valley Film Festival there will be an exclusive appearance by our Messiah, the Supreme & Unsurpassed Octavio Coleman Esquire, in flesh and spirit. All Recondite Family Members are especially welcomed. This too; one member of the audience will be selected by Coleman Esq. for initiation into the Latitude Society (at his...
Where Else? Explorinating Nonchalance...
Probably the most comprehensive account of the Games of Nonchalance offered yet, with all of it's side hatches, mini episodes, and dreams within dreams. Told by a player and prominent community member who chose to pull on every thread available, revealing the truth about divine nonchalance. Ladies & Gents, I give you the Cardhouse Account. http://cardhouse.com/where/
Making History again...
Really nice to be included in this list of San Francisco's most infamous alternative communities, with the Bohemian Blub and the Peoples Temple! http://www.thebolditalic.com/BrokeAssStuart/stories/2243-full-house
Documentary to debut at the Mill Valley Film...
"To the dark horses with the spirit to look up and see, a recondite family awaits."  With this mystical promise—or perhaps sinister threat—that begins the gleefully unclassifiable The Institute, viewers are invited to enter a strange alternate-reality game in which the rules keep changing and the players cannot be trusted. Ostensibly an investigation into the Jejune Institute, a decades-old San...
WIRED weighs in on The Institute movie
Not exactly a movie review or preview, per se.  An odd piece.  Read it for yourself. http://www.wired.com/magazine/2012/09/jejune-institute-film/
My Days in the Orbit of the Demi-God: RAMM:ELL:ZEE
I awoke, face in the carpet, my personal affects strewn across his Battery Park apartment floor.  He stood in the hallway, a blurry silhouette… "I believe this is what you came for".  It was the Evolution Griller VHS cassette, a compilation of work by The RAMMELLZEE. This was the culmination of a multi-year quest on my part.  I had first contacted RAMM via the Gothic Futurism website...
Recent Art Review from Stretcher Magazine →
"It's only natural in a world where viral forms of art and marketing coexist and sometimes collaborate, that we increasingly see these forms intermingling. Two of the most successful practitioners are Shepard Fairey and Jeff Hull."   A nice mention right there.
KInd of what it's all about...
We just received this heart warming message: Hi, I just wanted to thank you for being awesome, and inspiring me to create an elaborate scavenger hunt marriage proposal.  If you like, you can check it out here: www.chengulla.com Thanks again! Michael Gulla & Stephanie Chen (BTW: She said yes!)
Photo Spread on Jejune Institute from WSJ... →
'Noice' Turnstyle Piece on "The Institute"... →
Upcoming Speaking Engagements →
Imagine our surprise when we are invited to present at the 10th International Conference on Neuroesthetics.  Yeah, like brain science!  Their theme this year is "the importance of being playful."   It's going down May 27th, 105 Stanley Hall, UC Berkeley.  FREE Friday April 27th, Nonchalance founder Jeff Hull will be speaking at UC Santa Cruz, for the Foundations of Interactive...
1 tag
"The Institute" Documentary Preview
The film, directed and produced by Spencer McCall, will preview on Saturday April 21st at a midnight movie screening at Oakland's Grand Lake Theater.  Reception begins at 10pm at Monkey Forest Road Gallery, on Grand Avenue.  This, my friends, is going to be a Party.  Ticketing information here…  http://www.theinstitutemovie.com
I just watched a rough cut of "The Institute" documentary, directed & produced by nonchalance collaborator Spencer McCall. I laughed, I cried… literally. Expect a release by the end of the year. I will withhold all of my comments until you've had a chance to see it too.
"Nonchalance is shaking the platform of curatorial work and interactive art,..."
– BOMB Magazine
This is exciting: The Elsewhere Philatelic Society... →
Anonymous asked: Is there a way to see the repository even though I never completed Act IV?
Anonymous asked: Where can I send love letters to nonchalance?
2 tags
"…incredibly sly and well observed."
– I09
Watch
What was said in Amsterdam.  ( Submarine TV / PICNIC Festival )
1st Annual Socio-Reengineering Retreat
Later this month a select group of creative personage will be attending a retreat held at Dabblewood Compound, in the redwoods of Mendocino California.  There, they will work and play shop a new Situational Design Schematic. The project is exciting, it is dangerous, and it is frightening in its implications (hands wrung with anticipation).  We are proud to be partnering with Aitken Leadership...
After Dark at The Exploratorium →
Looks like Nonchalance will be collaborating with The Exploratorium for an upcoming "After Dark" event, in which we will be curating and re-contextualizing The Tactile Dome.  The event's theme is "The Senses", and it takes place Thursday November 3rd.  Thanks to the very cool team who brought us in on it.  We WILL NOT SEE YOU there! Postscript: We rocked it like a...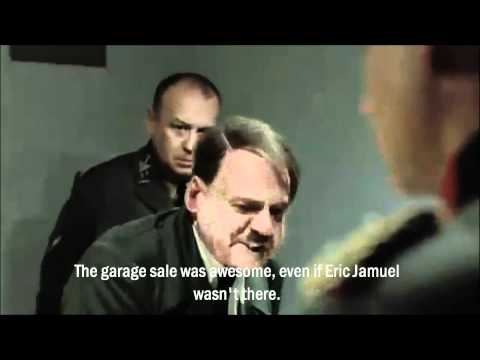 WONDER: what I now know →
Goosebumps, laughter, and tears.   I experienced all these things as I read Wonder (what I now know), a spellbinding zine dedicated to Nonchalance.  Two participants retrace their steps, describing in detail every sensation they experience on their path of fortuitous discovery.  This retrospective illuminates the finer points of the "game", reminding me how deep and weird and...
When the Players become the Masters. →
The Elsewhere Philatelic Society is an alternative / alternative universe to Nonchalance, in which the most advanced players of our experience began to create their own deeply involved storyline.  Utilizing and advancing on techniques and themes from our production, they have cultivated a following all their own.  Nothing speaks higher to the depth of involvement and community building aspects...
Jejune explored on KPFA Urban Gaming Showcase.
A team of initiates are followed through the deep forests of San Francisco as they explore the Games of Nonchalance. Great little radio piece.  Enjoy!
Quite pleased to be invited to the upcoming StoryWorld Conference (San Francisco) and Picnic (Amsterdam).  It's wonderful to get a chance to dialogue with other experience designers.  On that note, we've been having some very interesting conversations lately with "industry" folks in LA.  Shout outs to Idea Monkey, Syn Labs, Fouth Wall, Quixotic, No Mimes, and...
You can follow this on Twitter with the handle #pervasiveplay.
ARGNet Year in Review →
Creative Director Jeff Hull's TedX Talk →
3 tags
The AWL Article: Part I →
The Mysteries of San Francisco's Creepy Jejune Institute
3 tags
The AWL Article: Part II →
The Perplexing Final Chapter of The Jejune Institute